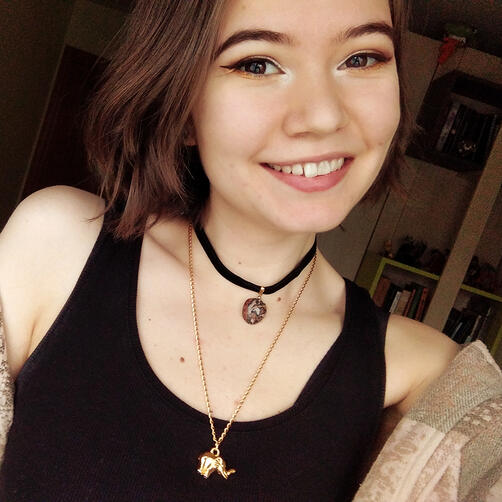 Nora García Martínez | ♀ | 26
Hi! I am a digital artist specialized in illustration and visual development.Born in the verdant landscapes of Asturias (Spain), I have great interest for animals and nature, including fantasy worlds.I am always willing to enjoy a chill afternoon of tea, chat and doodles.Thanks a lot for your time! ♥
LANGUAGES
English (Cambridge C1 - Advanced)
Spanish (native)SOFTWARE
Photoshop CC (main tool)
Adobe Suite basic knowledge (Illustrator, Premiere...)
Traditional techniquesEDUCATION
MRSS Arts Pogram (BC, Canada)
'Expert in Illustration' CFP (Oviedo)
'The Art of Color and Light' - Chris Brock (CGMA)WORK
2D artist at VIVA Games (2019 & 2020, Seville)Currently Freelancing (2020 - 2023)
Clients include: CometCon Asturias, Tale Studios, Bravísimos agency, Turtle and Phoenix Entertainment...Taught a Workshop at EAO (2022, Oviedo's art school)OTHER
Attended Global Game Jam (Málaga, 2023)
nordevagarcia@gmail.com
Telegram: @nordeva
Welcome to my commission price list.These prices are for personal, NON-commercial use only.
If you wish to publish or sell my artwork,
an additional fee shall be discussed privately.Thank you for your interest!
---
NOTES
· Complex character design/patterns: €10 - €30
· Certain outfits such as elaborate costumes, armors...: €10 - €50
· Mecha, robots, vehicles...: €50+
Anthro characters must wear clothing.*
Outfit references or style ideas are much appreciated.
*There may be exceptions
Character colors might appear slightly different
to match the lighting and palette.
Extra character price: +80%
(except stated otherwise)
---
KO-FI COMMISSIONS
The following 2 Commission types are only available via Ko-Fi
---
---
Portrait ♦NEW♦
Price: €180· Waist-up shot of the character (aprox.)
· Dramatic lighting
· Textured gradient background
---
character art ♦NEW♦
Chibi: €200
Two characters: €360 €320Regular: €240
Two characters: €432 €360· Aprox. 3/4 of body shown
· Elaborate composition and palette
· Clean lines, soft detailed shading
· Free Lockscreen and Wallpaper versions!!BACKGROUND OPTIONS:
- Simple scene (blurry room, nature themes)
- Graphic (fantasy elements, favourite things)
---
Full illustration
Background (base price): €100 - €600Small character: €80 - €90
Medium character: €100 - €120
Big character or creature: €130 - €160Video game concept or promotional art vibes.
Most species accepted, including human-like, orcs...I prefer not to work on regular furry anatomy for these ones!
Characters will be "chibified" or stylized.Quotes are always OPEN!!
✉️ nordevagarcia@gmail.com
---
Reference sheet (& chibi ref. sheet)
Full body
(flat colored)
Headshot
(simple shading)
Full body with outfit
(flat colored)
With base
€40
-
-
Chibi
€80
€40
€90 per original pose
+€40 per extra outfit using the previous pose
Regular
€110
€60
€120 per original pose
+€50 per extra outfit using the previous pose
All options above can be mixed!
i.e. regular full body + chibi outfits· Small details (i. e. closeups of eyes, earrings...): + €5 to €10
· Complex details (wings, mechanical accessories, etc.): + €10 to €40
· Personality items (food, hobbies...): +€5 each
· Expression sketches: €40 eachText info & color palette are included in the priceI can work from description for an extra fee!
Some kind of visual references / examples will always be needed.
---
TELEGRAM STICKERS
▶️10% discount every 10 stickers◀️
i.e. 5 regular + 3 memes + 2 doubles = €400 €360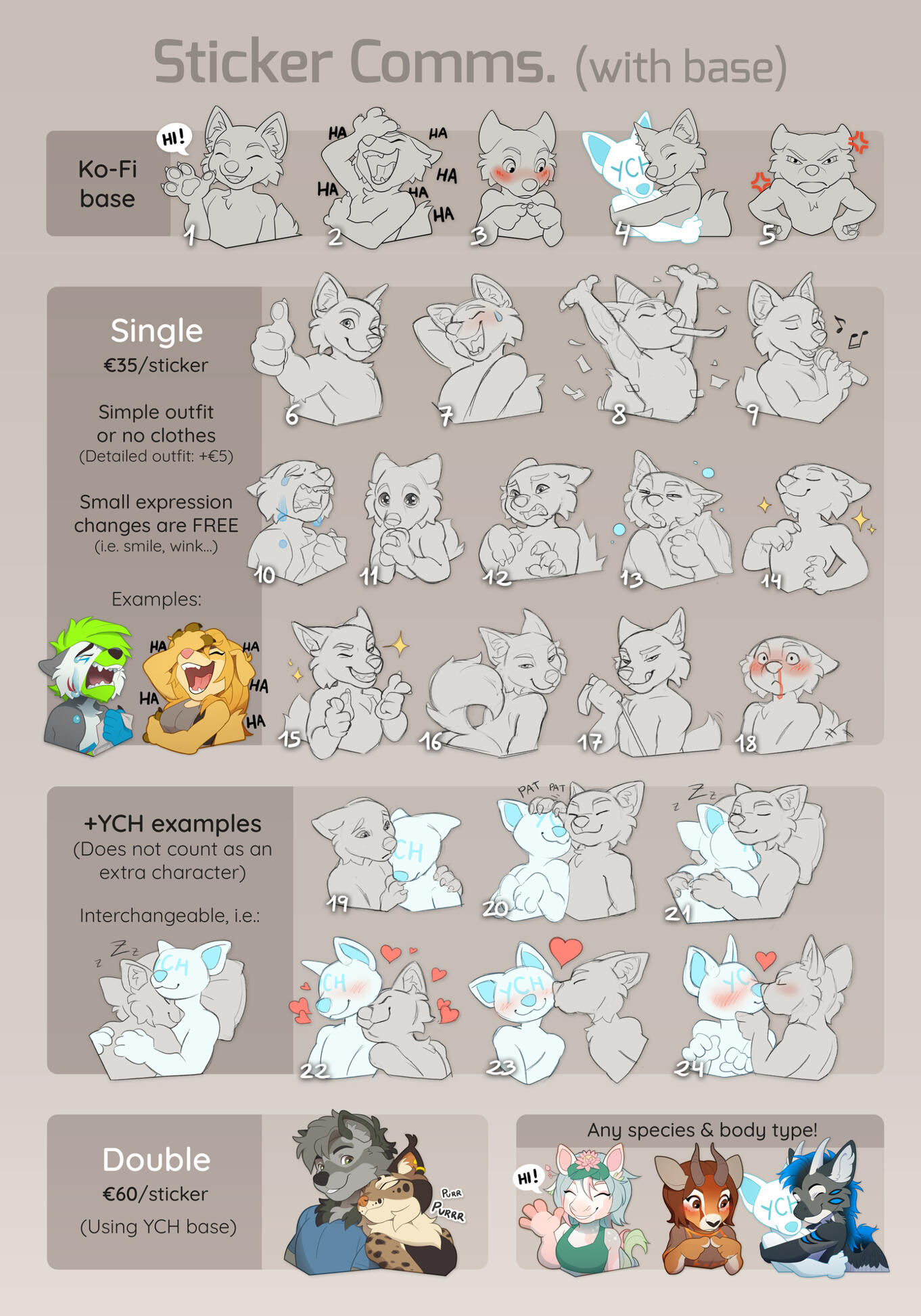 ▶️10% discount every 10 stickers◀️
i.e. 5 regular + 3 memes + 2 doubles = €400 €360
---